Kettlenetics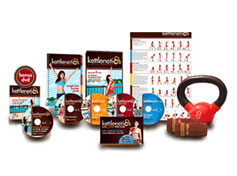 Kettlenetics Slim & Tone is the amazing kettlebell workout system developed by celebrity trainer, Michelle Kai.
The workouts are designed for getting firm legs, lean abs, and toned arms fast. It features the kBell, one of the most effective hand-held gym equipment.
Some celebrities that use kBell and Michelle program includes McConaughey and Katherine Heigel.
The Kettlenetics program uses a three dimensional weight swinging workout that incorporates fat-burning, muscle -shaping and resistance training all in one.
The slimming secret is the dynamic flow motion movements done with the kBell. When you swing the kBell, you use practically every muscle in your body for whole-body resistance training and high-speed cardio fat burning.
The Kettlenetics Slim & Tone Kit includes:
4lb kBell
2 Soft Protective Wrist Bands
KB Elements DVD
Flow Motion Basics DVD
Cardio Balanced DVD
KB Toning Target DVD
Strength & Serenity plus CardioFit Ballet DVD
Weight Loss Success Guide Book
Learn The Moves Wall Chart
On-the-Go Guide for Healthy Eating
Get the Flash Player to see this player.
Right with this special introductory offer, you can order the Kettlenetics system for just 2 easy payments of $19.95 plus shipping and handling or 1 payment of $39.90 plus shipping and handling.
Update: This offer has expired