Air Climber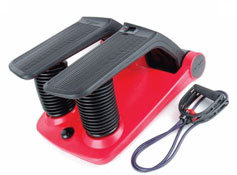 Only the Air Climber has Air Power Technology to you help work out. Now you can get cardio, weight loss and tighter abs and core all with a single work out.
Just step on air with Brenda Dygraf's new AirClimber System. It is a fun workout that uses air to eliminate impact while each step lifts, shapes, and tones the legs. At the same time you'll be burning carbs.
Brenda's exciting workouts combine fat burning,total body toning and an ab work out, all in one. It is a total gym system that enables you lose weight and get in shape at home.
Now you no longer have to get on the floor and do crunches in order to get the abs you want. The Air Climber is all you need to get fit.
Get the Flash Player to see this player.
The Air Climber package includes the AirClimber Fitness System, a Personal Training Computer, 3 Full Workouts on 1 DVD, the Tough BodyCord for upper body toning, the JumpStart 10 Day Diet, and the Exciting Burn & Firm Workout DVD.
You can purchase the Air Climber for one easy payment of $119.97 plus shipping or take advantage of a trial offer and try the Air Climber for $14.95 plus shipping.