Sensa Weight Loss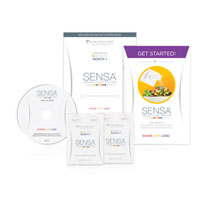 Sensa is a revolutionary weight-loss system. It allows you to continue eating the foods you enjoy while losing weight at the same time.
Sensa uses a patent pending technology that is based on 25 years of research. It was developed by Dr Alan Hirsch, who is a world renowned expert on the science of sensory response.
By using the science of smell, it gives you the full satisfaction of food while eating less. It works by stimulating  an area of the brain called the "satiety center".
This portion of the brain tells your body when it is full and when to stop eating. By enhancing the sense of smell, Sensa causes the brain to send the signal to the stomach that you are full faster and causing you to eat less.
Sensa is very easy and convenient to use. There are two sides to each Sensa shaker. One side marked "salty"  while the other is marked  "sweet". You simply sprinkle the correct side of Sensa onto the food you eat.
The "salty" side goes onto food such as meat, pasta, and most vegetables. The "sweet" side goes onto on sweet fruits, deserts, and other sweet foods.
Get the Flash Player to see this player.
The formula in the new Sensa Advanced has now been improved for even more effective results. The dual action formula has a stronger blend which helps control hunger and curb your cravings more effectively. Plus there now also a key nutrient inside Sensa which aids your body in metabolizing fat and carbohydrates.
Right now you can get a 30-day trial offer and try Sensa 2-Month Starter Kit risk free. All you have to do is just pay $4.95 to cover the shipping and handling cost.