Tobi Steamer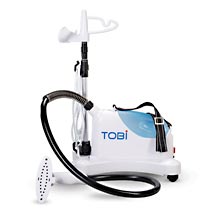 The Tobi Portable Wrinkle Reducer is a professional steamer that can save you time and money. It steams away wrinkles in seconds, just hang the garment on a regular hanger. There's no board or flat surface required and it can removes wrinkles up to 5 times faster than ironing.
The heat and moisture from the Tobi gets rid of wrinkles in seconds. You just simply turn the lighted switch to ON. You don't have to apply any pressure at. Just touch the garment lightly, and move the nozzle up and down. It's that easy.
The patented technolgy in the Tobi Steamer can:
Remove wrinkles from all your clothes – right on the hanger.
Easily glide right over obstacles – buttons pockets, sequins and prints.
Removes unpleasant odors – clothes smell laundry-fresh.
Prevent heat damage – no burning or scorching.
Work beautifully on all fabrics – with no ripping or tearing.
Get the Flash Player to see this player.
The average American spends $450 on dry cleaning services. But you can save money by purchasing the Tobi Steamer for only 3 payments of $33.
But that's not all where you purchase the Tobi, you will also get a free Tobi Traveler Steamer, the Tobi Quick-change upholstery attachment, and the Tobi Lint brush attachment.
Update: The Tobi has been replaced by the new and improved Tobi Platinum