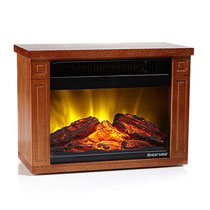 The Heat Surge Mini Glo is the world's smallest Heat Surge fireplace. It is an electric heater with Fireless Flame technology that gives you the peaceful flicker and appearance of a fireplace.
However there are no real flames so that means no fumes, smells, ashes or fire hazards. In addition the unit stays cools, is safe to touch, and has none of the safety hazards of a fireplace.
While the Heat Surge Mini Glo is sleek and compact at only 9.4″ x 13.25″ x 6.5″, it is extremely effective at heating and is also energy efficient.
Read more about this product >>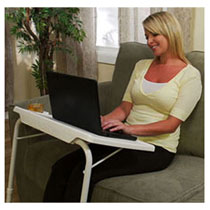 The Table Mate is the convenient, portable, and transformable table that slides right to you. It is one of the most comfortable portable tables ever.
The design is ideal for those who have limited space and mobility. Since it can be adjusted to 6 different heights and 3 different angles, it is like having over 12 different tables in 1.
Table Mate features a lightweight construction that is sturdy and can hold up to 50 lbs. Plus there's also a built in cupholder on the side which stays leveled no matter what angle you adjust the table.
Read more about this product >>
Lower your thermostat and your heating bills while cleaning the air you breathe with Seasonaire. It is a heater and air purification system built into one.
Seasonaire is a ceramic infrared heater with a HEPA air filter, UV air purifier, ionic air freshener and humidifier. It is much more efficient than common coil heaters since it can heat a room up without drying the air and making it hard to breathe.
The Seasonaire is rated at 5,600 BTU and can heat up to 1,000 square feet. It only cost pennies per hour to operate and you can easily roll into the room you want with the portable design.
Read more about this product >>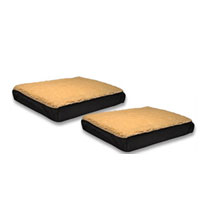 The Forever Comfy is a combination cushion which provides superior  support and comfort for your back and bottom. It is lightweight, portable, and washable.
Those that sit on a chair all day long know that it can lead to your back aching and your behind sore. Also may car seats are uncomfortable, especially during  long commutes.
The problem though is not how you are seating and your posture but rather because the seat lacks the proper cushioning and support. This is why you need the Forever Comfy.
Read more about this product >>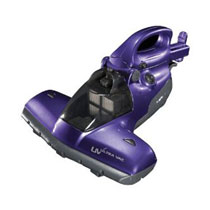 The UV Ultra Vac is a special vacuum cleaner designed for cleaning bedding, mattresses, pillows and other furniture. It can effectively kill and eliminate any bed bugs, dust mites, and also various types of bacteria.
The secret is that it has a built-in UV light which activates when cleaning a flat surface. This unique UV cleaning technology reduces dust mite and bed bug infestations by more than 90%.
In addition the UV rays released can kill 99.9% of bacteria and viruses, including salmonella, E Coli and Staphylococcus. It will keep your home clean and free of dust mites, bed bugs, and harmful bacteria.
Read more about this product >>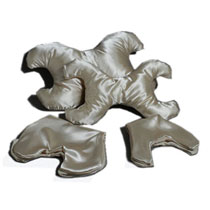 The Love My Face Pillow is an anti-aging pillow that helps protects sleep lines, wrinkle and creases from forming while you are sleeping.
Ordinary pillow can actually make your face look older and age faster each night. With this occurring day after day and year after year, the results can really add up.
This is because regular pillows compresses your skin and grasp your skin while you sleep, causing pillow face. It can cause sleep lines, puffiness, and wrinkles.