UV Ultra Vac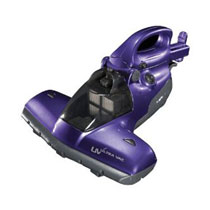 The UV Ultra Vac is a special vacuum cleaner designed for cleaning bedding, mattresses, pillows and other furniture. It can effectively kill and eliminate any bed bugs, dust mites, and also various types of bacteria.
The secret is that it has a built-in UV light which activates when cleaning a flat surface. This unique UV cleaning technology reduces dust mite and bed bug infestations by more than 90%.
In addition the UV rays released can kill 99.9% of bacteria and viruses, including salmonella, E Coli and Staphylococcus. It will keep your home clean and free of dust mites, bed bugs, and harmful bacteria.
The UV rays released has been proven to be able to kill bed bugs and dust mites. After the UV light strikes them dead, they and their  waste and eggs are easily sucked up into the powerful vacuum and out of your furniture.
In addition, the UV Ultra Vac also has a built in HEPA filter that can remove up to 99.9% of allergens in the air. By eliminating bed bugs, dust mites, bacteria in your bed and allergens in the air, you can sleep better at night and wake up with less congestion, headaches, and allergies.
The UV Ultra Vac can be used on mattresses, sofas, couches, chairs, carpets, rugs, pillows and other types of furniture and upholstery. It is ultra compact, lightweight, and has a telescopic handle for cleaning carpets and rugs.
Get the Flash Player to see this player.
You can take advantage of a trial offer and try the UV Ultra Vac at home first for 30 days, risk-free.  You just have to pay $14.95 plus the shipping and handling cost.
After the 30 day trial period, if you decided to keep the UV Ultra Vac then it is 3 monthly payments of $33. Or you could just purchase the UV Ultra Vac directly for just $99.99 plus shipping and handling and save 15%.