Flex Seal Brite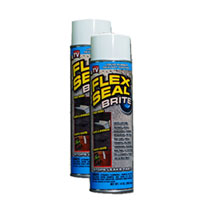 Flex Seal is now available in a new off-white color that makes it much easier to paint over or blend in when repairing surfaces with light colors. It is called Flex Seal Brite.
The original Flex Seal can be painted over too but the dark black coloring requires more coats of paint and sometimes can still stand out when repairing surfaces that have lighter colors.
Customers commented and the makers of Flex Seal listened. Now with Flex Seal Brite you have all the benefits of the original Flex Seal in a new lighter color.
Aside from the off-white coloring, Flex Seal Brite does everything the original Flex Seal does. This means you can make the same quick and easy repairs to stop leaks and seal cracks.
You just spray Flex Seal Brite on the surface you want to repair. The flexible rub­ber com­pound will seep into the cracks and then dry to form a waterproof seal.
Once Flex Seal dries, it is hardened and you can paint over with any color to match the surface. Or if  you are repairing an off-white sur­face, then you already done and don't have to paint it at all.
Flex Seal Brite can be used on virtually any surface. This includes wood, metal, tile, concrete, masonry, fabric, glass, plastic, aluminum, porcelain, dry wall, rubber, cement, vinyl and much more.
Get the Flash Player to see this player.
Normally a single large can of Flex Seal Brite sells for $19.99 plus shipping but you can currently take advantage of a buy 1 get 1 free offer. You'll get an additional large can of Flex Seal Brite for free. Just pay the extra shipping and handling.
But there's more. You also receive a bonus AeroGrip Sprayer for free with your order. It easily snaps onto the Flex Seal can for easier spraying and less hand fatigue.
Click here to get the Flex Seal Brite Buy 1 Get 1 Free Offer