PetMD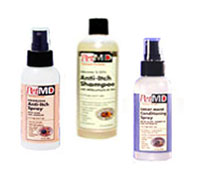 Improve the health of your pet's skin and help relieve their itch with the PetMD Anti-Itch system.
It uses a gentle, odorless, and non-stinging formula with Lidocaine that is designed to soothe and relieve the pain and itching pets get.
Don't let your cat or dog suffer through discomfort. Help them maintain healthy and problem free skin with PetMD.
The PetMD Anti-Itch Spray contains a potent blend of antimicrobial and anti-irritant ingredients that is mixed with moisturizing and soothing elements. It is also enhanced with aloe and lanolin for gentle, soothing comfort.
The formula provides veterinary strength relief and works instantly to relief pain and itching. It will dramatically curb the excessive licking of your dog or cat.
Get the Flash Player to see this player.
Right now with this special offer when you purchase the PetMD Anti-Itch Spray for just $9.95 plus shipping and handling, you'll also receive a free bottle of PetMD Anti-Itch Shampoo and a free bottle of PetMD Great Mane Conditioning Spray. You just have to pay the additional shipping.
The PetMD Anti-Itch Shampoo helps effectively control itching and contains shine-enhancers plus special botanical blend that helps soften and moisturize the coat of your pet. It also neutralizes odors.
The PetMD Skin and Coat Spray Conditioner is formulated with moisturizing agents that assist in the control of flaking and scaling. Plus it helps revitalize your pet's skin pH balance.