Shed Vac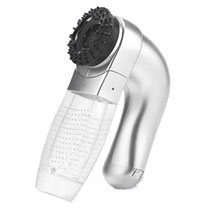 The Shed Vac helps remove shedding pet hair from your dog and cat before they get all over the place. It is clean, easy to use, and pain-free for your pets.
This professional-style grooming tool is  vacuumed powered to suck up shedding hairs from your pet. It fits right into the palm of your hands for easy maneuvering.
The Shed Vac features a specially designed head that will lift away and collect the shedding hairs from the undercoat, where the shedding hairs are located.
The motor of the Shed Vac is quiet so it won't scare away your dog or cat. The rubberized bristles gently massage your pet while removing hair. It is gentle and safe to use on the sensitive skin of puppies.
With the Shed Vac there is no messy clean up. The pet hairs are sucked into the collection container and you just simply empty it out into a trash can.
Get the Flash Player to see this player.
The Shed Vac sells for $19.95 plus the cost of shipping and handling. Right now there is even a buy 1 get 1 free you can take advantage of. You can get a second Shed Vac for free if you just pay the extra shipping cost for it.