Dream Lash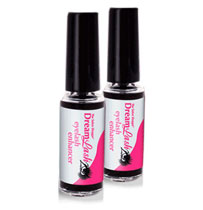 Getting longer, thicker and fuller eyelashes is now simple thanks to The Salon Shoppe's Dream Lash. The difference will amaze you.
Dream Lash isn't a mascara but rather works on top of your mascara in order to make them look longer and fuller.
It is made from a light natural cellulose that surrounds each individual lash in order to thicken and lengthen them.
The  special proteins in Dream Lash will penetrate each eyelash in order to strengthen and condition, helping produce a more beautiful look.
Dream is  hypo-allergenic, goes on clear, and is safe to use. It provides a safer and more affordable way to enhance your lashes compared to prescription treatments which are expensive and can negative side effects.
Get the Flash Player to see this player.
Usually a single bottle of Dream Lash would cost $19.99 plus shipping and handling. However with this current double offer, you get a second bottle of Dream Lash free by paying the additional shipping.
Plus as an added bonus, this special offer also comes with a free Heated Eyelash Curler that is valued at $20.