My Scent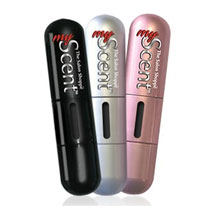 No one wants to carry a bulky perfume bottle around and now you don't have to thanks to My Scent from the Salon Shoppe.
It is the refillable atomizer for your favorite perfume so you'll always have your favorite perfume at hand no matter where you are.
My Scent is small enough to fit inside your purse. It t meets all the TSA and airline requirements so you can take it with you while you travel.
It is simple to use. Just either pour in or pump in your favorite fragrance and when it runs out just refill it again.
The My Scent is the same size as a lipstick so you can put it inside your purse or a pocket. You can also keep one in your car, your gym bag or at work.
Get the Flash Player to see this player.
My Scent is available in three different colors with Basic Black, Sexy Silver and Pretty Pink. Normally a single My Scent is $10 plus shipping and handling.
However right now there is a buy 1 get 1 free offer available. You'll get a second My Scent in the same color for free. You just have to pay the extra shipping.
Plus as an added bonus, you'll also receive a Lighted Mirror Traveling Mirror with  5x magnification free with your order of My Scent.