Tomato Factory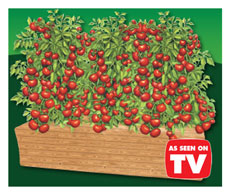 Delicious and juicy tomatoes are just a step away with The Tomato Factory Planter. It lets you easily grow your own tomatoes.
It makes growing big, juicy and delicious tomatoes simple and without all the back breaking work that is normally involved.
The Tomato Factory Planter is specially designed to help absorb sunlight in order to maximize plant growth. It provides better soil aeration and allows the sun to heat the roots, like a green house.
It stimulates growth, for early ripening and a higher yield so you can enjoy fresh and delicious tomatoes faster. Best of all, there's no need for digging or weeding. The Tomato Factory takes care of all that for you.
All you have to do is fill, plant and water to grow your tomatoes. The Tomato Factory is made with a waterproof and flexible heavy duty vinyl. It goes great on the porch, deck, patio and more.
Using The Tomato Factory, you can save money on groceries by having your own fresh tomatoes. It is more economical than other planters.
Get the Flash Player to see this player.
You can order The Tomato Factory Planter for just $10 plus the cost of shipping and handling. The product comes with a 30-day money back guarantee.
But there's more because with you'll also receive a set of 3 Bushelmaker Tomato Pre-Seeded Pots free with each Tomato Factory. You just have to pay the extra shipping for them.