Hanging Strawberry Garden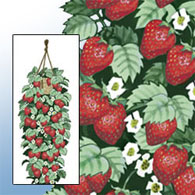 The Hanging Strawberry Garden allows you to enjoy sweet, delicious strawberries all year long. It is an amazing all season indoor and outdoor strawberry garden that you can hang.
These Tri-Star strawberries is the first of a new variety of perpetual bearing strawberries developed by plant scientists at the US Department of Agriculture.
Now you can grow strawberries all year long, even during the cold winter months.
Even more incredible is that once you pick them, a new crop of fresh berries will quickly grow back to take their place.
With the Hanging Strawberry Garden, you'll have delicious strawberries in just 60 days. You can pot in soil or any other potting medium.
Save up to hundreds or even thousands by growing your own delicious and fresh strawberries.
Get the Flash Player to see this player.
Your Hanging Strawberry package includes  a 8 1/2 inch Hanging Basket, 3 Tri-Star Strawberry Plants,  Easy Care Instructions , and the Secret Strawberry Jam Recipe.
The Hanging Strawberry Garden only costs $10 plus shipping and handling. But that's not all. Take advantage of the current buy 1 get 1 free offer and get 2 Hanging Strawberry Gardens for the price of one, just pay additional shipping and handling.