PivoTrim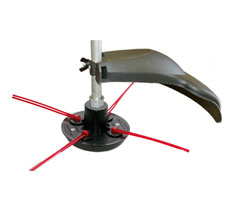 PivoTrim is the world's first trimmer head that keeps your line from breaking. It lets you clear fields, edge sidewalks, and trim around fences with ease.
Even banging it against pavers, edging around driveways, smashing into walls, or crashing into the fence won't cause the line to break.
The secret behind the PivoTrim is the patented pivot action that is specially designed to protect the trimmer line.
Instead of bending and breaking, the pivoting action saves your line so you can continue to trim without any hassles.
The PivoTrim is simply the ultimate trimmer head for any gas trimmer. It is so powerful it can even cut through plywood without breaking a single line.
Get the Flash Player to see this player.
You can order the PivoTrim system for just $19.95 plus the cost of shipping and handling. It includes the PivoTrim, a Universal Installation Kit, 20 Precut Trimmer Lines, and a certificate for free Trimmer Lines for Life.