Greenworks Tools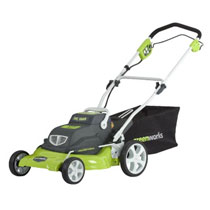 The Greenworks Tools lawn mower is powerful, efficient and leaves behind no carbon footprint at all. This 19″ 3-in-1, 40V mower is powered by a rechargeable lithium ion battery and is completely cordless.
It gives you comparable performance to gas powered lawn movers but without any fumes, maintenance, expenses or other hassles. You can now stop wearing your hand out by pulling on a cord and stop filling gas cans.
With Greenworks Tools mowing the lawn is easier and greener too. The lithium ion charging system of the Greenworks Tools has received the EPA's Energy Star approval rating.
The 40V high power rechargeable lithium-ion battery gives you up to 60 minutes of continuous run-time. A second rechargeable battery is included and can be quickly swapped in when needed.
Other features of the Greenworks mower includes a rear bagging capability with the included collection bag. It also comes a mulch plug for mulching and a side discharge chute.
The Greenworks has a single lever height adjustment that lets you cut grass from 1-1/2 inches to 3-1/2 inches. With the Easy Fold System you can fold it up for easy storage or compact transportation.
Get the Flash Player to see this player.
The Greenworks Tools comes with a grass collection bag, mulching plug attachment, two 40V high performance batteries, and a Smart Battery Charger. It sells for $499 plus the cost of shipping.
Currently there's a 30-day trial offer available that you can take advantage of and try the Greenworks Tools first for $14.95 plus shipping and handling .
As a bonus you can also get a free 40V String Trimmer and a free 40V Blower with your order. You just have to pay the additional shipping and handling cost for them.