Titan Peeler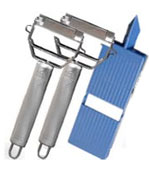 The Titan Peeler is the world's best slicer. It is made of long lasting and dishwasher safe stainless steel. The long lasting blades helps cut vegetables quickly and easily.
It peels in any direction, up, down, back and forth. Use the Titan Peeler to peel, slice, grate, shave, shred, and garnish. You can use it to slice both hard and soft cheese perfectly, every time. Each Peeler has dual action motion to cut the peeling time in-half.
The Titan Peeler includes all the trimmings. It includes handles and cutting/peeling blades,  a Julienne Blades for perfect julienne slices of your favorite vegetables every time,  a slicing board that turn the Titan Peeler into the perfect slicer.
It also comes with a free garnishing recipe book with tips and tricks on preparing fruits and vegetables.
Get the Flash Player to see this player.
Right now when you purchase 1 Titan Peeler, you'll get another for free. That's 2 Titan Peelers for $14.99 plus the cost of shipping and handling.
Update: This offer has expired