Grater Plater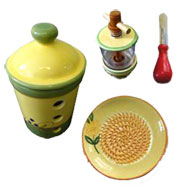 Grater Plater is the amazing plate that grates with ease. Use it to grate cheese, garlic, ginger, and much more.
It is made with a hardened tempered ceramic design to ensure that it will never dull.
Plus the surface of the Grater Plater is triple glazed so nothing you grate ever sticks to it. 
With the Grater Plater you'll easily grate cheese and puree garlic qucikly. It is also one of the best ginger grater you'll ever use.
Add some olive oil and herbs, and it becomes a dipping plate. You can also use the Grater Plater for baking, chocolate, cinnamon, and even coconut.
Get the Flash Player to see this player.
Right now with this current offer, when you order the Grater Plater for $19.99 plus shipping and handling you'll also get 3 free bonus gifts.
They are a free Gathering Bursh, Garlic Keeper, and Herb Mill. This speical offer is not available in stores.