Quick Chop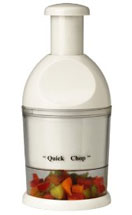 The original Quick Chop is the fast and easy way to chop, mince, slice and dice with just a simple tap.
It is great for making salads, fruit salads, chopping garlic, cutting nuts for ice cream toppings and more.
Quick Chop works faster than a knife and is much easier to use than a processor.
First you just place food on enclosed base or use any cutting board and then place Quick Chop over the food.
Afterwards just place your palm over plunger and give it a tap down. Each time you tap the plunger the food is chopped finer.
Quick Chop is also extremely easy to clean it. You can open it up and wash with hot soapy water or just place in dishwasher.
Get the Flash Player to see this player.
Right now with this buy 1 get 1 free offer you can get 2 Quick Chops for only $19.99 plus shipping and handling.
But wait there's more. You'll also get 2 free Quick Graters for cheese. Use it to grate all kinds of  cheese.