CoverMate Food Covers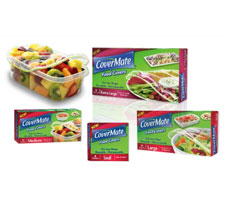 CoverMate is amazing reusable stretch to fit  food covers that can help you store and keep them fresh in just seconds.
It is a superior alternative to traditional foil and plastic wrap products since it uses a heat-sealed edge that provides a tight hygienic seal in order to keep food fresh.
CoverMate food covers are designed so that it can stretch to fit any shape dish, bowl, plate or container in order  to keep your food fresh.
Theses covers are made from clear material so it is easy to see contents. Each cover has four built-in corners that expand as necessary to fit any shape.
Plus CoverMate can be used in the microwave. They have tiny corner vents that allow steam to escape when used in a microwave for splatter-free reheating.
Get the Flash Player to see this player.
With this current special free sample offer you can get a set of 4 CoverMates for free. This includes a Small Size Reusable Cover, Medium Size Reusable Cover, Large Size Reusable Cover, and Extra Large Size Reusable Cover.
All you have to do is pay $3.95 to cover the cost of shipping & handling. Plus you'll also receive a $1.00 off coupon for future purchases of CoverMate.
Update: This offer has expired