Bake Pops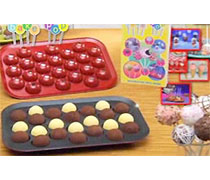 Bake Pops lets you make cake pops which are the latest sensation right now. You no longer have to buy them at the bakery for high prices.
Now you can make these delicious treats right in your own home quickly and easily by using the Bake Pops kits.
They are perfect for all sorts of occasions whether is for birthdays, other holidays or just as a everyday snack. Kids and adults alike will love them.
Making your very own cake pops with Bake Pops is as easy as 1-2-3. Each specially designed Bake Pop pan lets you make 18 bake pops each.
First you fill the Bake Pop pan with any type of cake mix you like. Then put on the custom lid and place it inside the oven.  Once it is finished you'll have 18 bite-sized Bake Pops ready to be decorated and then eaten.
You can customize your Bake Pops anyway you like and the included Decorating Guide will give you ideas and inspiration. Create your own Animal Pops, Holiday Pops, Ice Cream Pops, Party Pops and more.
The Bake Pops Kit includes a set of Reusable Pop Sticks that you can use over and over again. There's no forks or plates needed when eating Bake Pops and that means less cleanup and trash.
Get the Flash Player to see this player.
Each Bake Pops Kit includes the Special Bake Pops Pan, a Decorating Idea Guide, Squeeze Bottle, 25 Reusable Pop Sticks, 25 Wraps and 25 ties.
A single Bake Pops kit normally sells for $19.99 plus shipping and hanlding but currently there's a buy 1 get 1 free offer that is available. You'll receive a seconds kit for free by paying for the extra shipping and hanlding cost.