Big Top Cupcake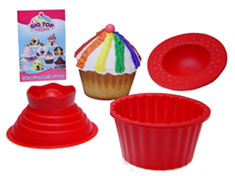 Now you can get into the spot light with the Big Top Cupcake and create amazing giant sized cupcakes that kids love.
It is simply the easiest and fastest way to make colossal cupcakes.
These giant cupcakes are is up to 25 times bigger than normal size cupcakes.
You can create hundreds of different designs with the Big Top Cupcake and everyone's face will light up when they see it.
The Big Top Cupcake is quick and easy to use. Just fill with any cake mix, bake and decorate.
The containers are made with flexible non-stick silicone so a perfect Cupcake pops out every time. Plus it makes cleaning up easy too.
Get the Flash Player to see this player.
You can order the Big Top Cupcake for just $19.99 plus shipping and handling. Act now you and you'll also receive two bonuses.
This includes the 3D animal cookie cutter and Fast & Easy Idea Book to create tons of different Big Top Cupcake designs. Just pay additional shipping.