Anytime Grill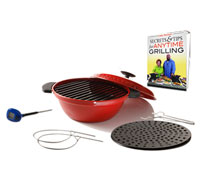 The Minden Anytime Grill takes all the hassles out of grilling and lets you grill anytime  you want at home. It is a winner of the Gourmet Houseware Show.
You can get real barbecue taste from your kitchen stove. So now you won't have to worry about lugging out that heavy grill or cleaning up greasy pans.
You can grill up sizzling steaks, tasty chicken, spicy kabobs, burgers, hot dogs or anything else indoors, no matter rain or shine.
With the Anytime Grill there's no hassles or mess and you get a great barbecue taste. It is not a griddle but an actual grill that you use on gas and electric stove tops.
The Anytime Grill is made with the same high quality steel found in outdoor grills. It will seal in moisture to give you juicy, tender and delicious results.
Plus the design collects all the splatter inside, leaving your stove top clean and splatter free. Cleaning the Anytime Grill is easy too.
Get the Flash Player to see this player.
The Minden Anytime Grill is available in three different colors with blue, red, and black. Each one includes an all-purpose grill plate and a copy of Cathy Mitchell's Secrets & Tips For Anytime Grilling.
You can order the Anytime Grill for 3 payments of $19.99 plus shipping and handling. Plus as a special bonus you can also get a set of Fire Wire Flexible Grilling Skewers and a free deluxe digital thermometer with your order. You just have to pay the additional shipping and handling cost.