Slingz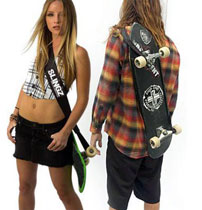 Slingz is the hands-free action sports strap that lets you effortlessly carry around your skateboards, longboards, razors, and more.
With Slingz you never have to worry about where to put your board again. It goes where you go.
Just hook a wheel and hook another and your board is safe and secure no matter where you are.
Sling is compact and portable. You can roll it and throw it your bag or your pocket. It is made with durable materials that are lightweight, functional and fashionable.
When it comes to convenience and safety, having a Slingz hands-free strap is a must have for any skater.
Get the Flash Player to see this player.
Slingz comes in available in three different colors. Choose from Black, Camouflage and Pink. Each is just $14.95 plus shipping and handling.
But there's more. You'll receive a free $15 Coupon from Osiris Shoes, a $15 Coupon from TailTap.com and the Children of the Revolution DVD with your order. That's $50 worth of free bonus gifts.