Learn Our History DVDs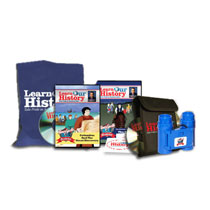 Learn Our History is an educational animated series for kids that is co-founded by Mike Huckabee, the former governor of Arkansas and a 2008 presidential candidate. It was created to make learning American history fun and exciting.
Each DVD contains an adventure where a group of time–traveling teens go back in time and relive the important evens in US history. They will help your children learn important facts and also help them take pride our history.
Learn Our History will get children excited over learning American history in a way no other book or learning materials ever could. This is because they are fun to watch.
In fact kids have so much fun watching the Learn Our History series, they won't even know that they are learning at all. They'll be able to remember the historical facts and events in the series like how they can remember what happens on their favorite cartoons.
Learn Our History teachs children ways facts in a way that they'll easily understand them. Almost 97% of children who watch the videos can remember. This helps them improve their grades and makes learning fun at the same time.
The shows in the Learn Our History series is animated by a group of Emmy Award-winning animators. Each episode gives children a front-row seat to important events in US history.
Get the Flash Player to see this player.
With this special introductory TV offer you can get the "Birth Of A Revolution" DVD and also the "Columbus & The Great Discovery" DVD as a free bonus for only $9.95 plus shipping and handling.
Plus you'll also get a set of 6 free bonus gifts that includes a DVD case, a set of binoculars, a shoulder sack, online streaming to all the videos, online interactive digital guides, and an additional bonus mystery gift.