Millionaire Memory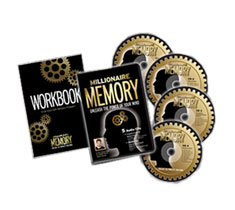 Improve your memory today with the Millionaire Memory program, created by the Guinness World Record Holder for Memory, Dave Farrow.
This breakthrough memory program teaches you how to create a mental filing system that lets you categorize and organizes information while being able to retrieve whenever you want.
With Millionaire Memory you'll learn to remember important names and numbers, do better on exams, deliver more flawless speeches and presentations.
Plus you'll never lose your car keys or other valuables again and it can help you get people's names right every time in order to avoid embarrassment.
You can also learn to quote scripture, famous people or even song lyrics perfectly to impress others with Millionaire Memory. It has been voted the number one memory program in America.
Get the Flash Player to see this player.
The Millionaire Memory system includes a workbook and 4 CDs. The first CD is Basic Memory Techniques, the second is Languages and Tools, the third is Names and Faces, and the fourth is Memorizing Numbers.
You can order the Millionaire Memory program for just $19.99 plus shipping and handling. As a special bonus, you'll also get the Instant Speed Reading CD for free.
Get the Millionaire Memory System