Your Story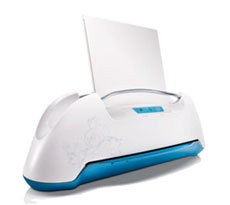 Your Story from Provocraft is your 2-in-1 personal publisher and laminator. Use it to professionally bind your photos, your memories, and anything you want to share.
With the Your Story machine you can create fun and professional books, reports, albums, journals, and more. 
Operation is easy and the results are amazing. Make unique and personalized gifts, memory books, and more.
Publishing your own elegant hard-bound books with the Your Story is simple and fun.
The Your Story Machine comes in a elegant look and in a light-weight design. Binding only takes 90 seconds with it.
The Your Story system comes with:
Your Story Machine
5 Hard Cover Binders
24 Laminate Pouches
Instruction DVD
2 Digital Content CDs
Free Online Design Tool
Get the Flash Player to see this player.
The Your Story package retails for 3 easy payments of $35 but right now you can get a 30 day in-home trial of the Your Story machine for just $19.99 plus shipping and handling.
Plus you'll also receive a Professional Metal Trimmer free. It comes with 4 blades; a Straight Blade, Peforation Blade, Wavy Blade and a Replacement Straight Blade.
This gift is a $40 value and yours to keep free even if you decide the Your Story is not right for you.