Garry Vacuum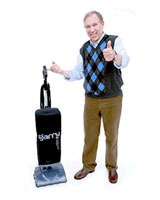 The Garry Ultra Light Vacuum is a professional quality vacuum that has superior suction power. Its  powerful agitating brush spins at an impressive 6,600 RPM.
It loosens stubborn, even hidden ground-in dirt from your carpets, rugs, wood floors, furniture and drapes the first time you pass over.
With this amazing one pass, no-back-track technology, you can cut your cleaning time in half.
The Garry Vac also features a hypo-allergenic type bag filtration system that allows you and your family to breathe easier. It contains a five layer germicidal outer bag and three layer inner bag.
This helps remove harmful particles in your air down to 0.3 microns. Plus, the Garry actually cleans your air as it cleans your floors, trapping allergens and dust.
The entire unit weights less than 9 lbs while delivering professional quality results. It works on hardwood floors and carpets.
Get the Flash Player to see this player.
The Garry Vacuum is originally valued at $599 but right now you can order it direct for just 4 easy payments of $49.95 plus shipping and handling.
In addition, you can receive a free Garry Steam Mop valued at $100 with your order. You just have to pay the additional shipping cost.