The Magic Drive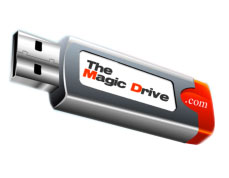 Your very own personal PC medic is here with the Magic Drive. It is a USB drive that comes pre-loaded with software designed to help you easily fix all computer's problems.
You simply plug the Magic Drive into your computer and click on the "Fix My PC Now" button. Within minutes you'll have a US Technician fixing your computer for your from online in real time.
Whether is it eliminating viruses, getting ridding of spyware, making your computer run fast again, backing up data, networking, or other problems Magic Drive can help.
The Magic Drive works from anywhere with an Internet connection available. Even if you do not have an Internet connection or if it is not working, Magic Drive can still help you by the toll free telephone support and with the utilities that comes pre-loaded with the Magic Drive.
A library of over 75 programs is included with Magic Drive. It includes anti-virus programs, anti-spyware, anti-adware, and much more.
Get the Flash Player to see this player.
You can order the Magic Drive now for just $99.98 plus shipping and handling. It comes with unlimited technical support for 1 year and has a 30-day money back guarantee. Plus you'll also receive free online data backup for up to 12GB.
Update: This offer has expired