Plasma Cool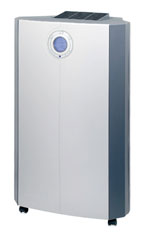 Plasma Cool from Arbaco is the most powerful portable air conditioner that runs on a household outlet. 
This powerful portable air conditioner uses cutting edge cooling technology and design to provide cold air where you need it most and  in whatever room you're in. 
The Plasma Cool PC-14E delivers 40-50% more cooling power than other portable air conditioners and will turn any room into a cool zone. 
It delivers 14,000 BTUs for maximum cooling power and now it comes with the patented NanoMist technology. It vaporizes excess water build up so there is no water to drain. 
At the same time the Plasma Cool is also extremely energy efficient. It uses less power than a coffee maker does. 
It has a 24 hour timer and a fan with 3 different speeds. The 3M filter removes unhealthy particles from the air, so not only will the room be cooler but the air will be healthier. 
Plasma Cool comes with a built in LCD display, includes a remote control and is programmable. 
Not only does Plasma Cool performs great, it also looks great. The ultra-modern and sleek design will look elegant in any room. 
Get the Flash Player to see this player.
Order the Plasma Cool for 3 easy payments of $209.65 or 1 easy payment of $599. It comes with free shipping and handling. 
 Update: This offer has expired