Riddex Pulse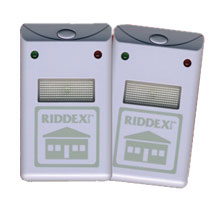 Riddex Pulse is the fast easy way to get rid of mice, rats, rodents, roaches and other pests without having to use any toxic chemicals.
It uses a patented digital pulse technology that creates a pest repellent force field around your home to drive them away.
While the the irritating environment created by Riddex Pulse repels pests away, it is safe for humans, children, and most households pests, including dogs, cats, fishes, and birds.
Riddex Pulse is a safe and humane solution to get rid of pests and prevent future pests from entering into your home. You don't have to spray your home with harmful chemicals and fumes.
Using the Riddex Pulse is simple and easy. You just plug it into an electrical outlet and it will do the rest of the work. A single unit can cover an entire level of a typical home.
The signal sent out by the Riddex Pulse will even work behind the walls, under your floors  and even above your ceilings to keep pests out.
Get the Flash Player to see this player.
A single Riddex Pulse unit normally sells for $29.95 plus the cost of shipping. However the company currently has a buy 1 get 1 free offer that is avaialble.
With this special offer, you will receive a second Riddex Pulse for free by paying the extra shipping and handling cost for it.