My Place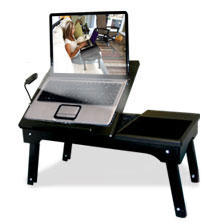 Bring My Place to your place. It is the multifunction workstation for your personal laptop.
MyPlace instantly turns your laptop into a portable desktop environment. It is compact, lightweight and will adjust to the desired height and angle for your laptop.
It is the perfect solution for those getting sore wrists or achy neck and back from laptop usage.
Laptops aren't really made to work in your lap and be comfortable at the same time. Using a laptop incorrectly can result in pain of the neck, back and hands. But My Place will solve all that.
My Place is perfect on your sofa, in your bed, by the pool, in dorm rooms and is great for kids.
Plus it has a comfort angle mouse pad and also a built-in LED light wand when using in the dark. It also folds up easily for convenient storage.
Get the Flash Player to see this player.
Normally an $80 value, you currently can get My Place for just 2 easy payments of $19.99 plus shipping and handling. Also you'll receive a free bonus USB hub with your order.
Update: This offer has expired.