Heat Surge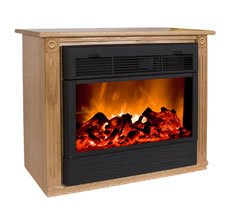 You can lower your heating bills and keep your entirely family warm with the Heat Surge Roll-n-Grow Electric Fireplace.
This electric fireplace features an Amish handmade wood mantle and is one of the best ways to save money on gas bills by heating just the rooms you are using.
Heat Surge gives you the ambiance of real fire and the convenience of a portable heater that you can move from room to room.
It is the result of the work of engineering geniuses. You just simply plug the Heat Surge into any standard wall outlet. It uses about as much energy to run as some coffee makers but can produce up to an amazing 5,119 BTU's.
These miracle fireplaces features "Fireless Flame" technology which gives you the peaceful flicker of a real fire but without any flames, fumes, smells, ashes, mess and won't cause a fire hazard. It does not  require a chimney or vent.
Heat Surge features 2 different energy settings. The standard setting produces 2559 BTUs and heats up to an 12′ x 13′ room evenly while the high settings produces 5119 BTUs and heats up an 18′ x 18′ room evenly.
Get the Flash Player to see this player.
Heat Surge comes in 4 different great finishes. Choose from Oak, Cherry, Black, or Dark Oak. A free remote control is included with each one.
Right now you can save $149 off the original price of the Heat Surge and get one for just $199 today plus shipping and handling, followed by 2 monthly payments of $99.50.