Super Foods Rx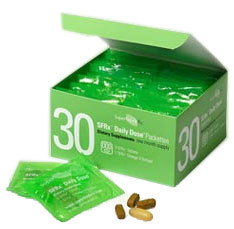 Super Foods Rx is a nutritional supplement that has been precise formulate and derived from 14 different super foods.
These super foods include beans, blueberries,  broccoli, oats, oranges, pumpkin, wild salmon, soy, spinach, tea, tomatoes, turkey, walnut, and yogurt.
The formula in SuperFoodsRx is based on the latest published reports documenting which nutrients are most critical for optimum health.
In addition, it is the only supplement to feature a precise array of nutrients derived from whole foods that are known to promote optimum nutrition and health.
The key to a living a long and healthy life, a life full of energy and activity, is directly connected to a person's diet.
A proper diet needs to regularly contain hundreds of very special micro-nutrients. Many of these micro-nutrients are just recently known to science, and is lacking in our modern diet.
Super Foods Rx contains these needed micronutrients. Benefits from taking Super Foods Rx includes increased energy levels, improved appearance of skin, hair and nails, strengthening the immune system, and boosting the metabolism to provide weight loss benefits. 
Get the Flash Player to see this player.
The retail cost of the Super Foods Rx is $49.95 for a 1 month supply. Currently with Internet only offer free trial offer,  you can try for 30 days, the SuperFoodsRx whole-food supplements and the SuperFoodsRx premium Omega-3 gel caps. You just have to pay $6.95 for shipping and handling.