Glymetrol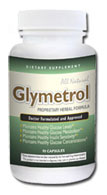 Glymetrol is a powerful supplement for anyone who is concerned with their blood sugar levels. It is an all natural supplement that helps maintain a healthy blood glucose levels.
The formula contains a proprietary blend of herbs and minerals that help support, normalize, and enhance basic glucose metabolism functions and insulin sensitivity.
Ingredients used in Glymetorl includes Alpha Lipoic Acid, Gymnema Sylvestre, Cinnamon Extract, Fenugreek, Bitter Melon Extract, Nopal Cactus, American Ginseng, Salacia Oblonga Extract, Banaba Leaf Extract, Chromium, Zinc, and Biotin.
By taking 3 capsules a day, it helps your body maintain a healthy glucose metabolism and glucose concentration.
Get the Flash Player to see this player.
A bottle of Glymetrol retails for $39.99 but right now there is a 30-day free trial offer available. You can try Glymetrol by paying $9.95 for shipping and handling.