Solerra Instant Bronze Mitt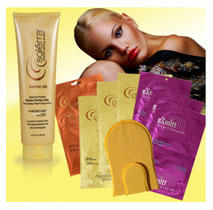 The Solerra Instant Bronze Mitt can give you a stunning celebrity tan in just seconds. It is designed to bronze instantly and dry immediately.
With the Solerra Bronze Mitt you get a streak free tan that leaves your skin looking healthy and glowing golden brown.
The special design of the ensures that none of the bronzer will get on your hand and stain your palms or your clothes.
Solerra's is specially formulated with unique polymer ingredients in order to develop a golden brown tan.
Only the freshest ingredients are used to ensure that the formula delivers the most natural skin tone of any sunless tanning formula.
Unlike most other tanning products, Solerra does not have that bad smell. It uses an exclusive Invisicare formula with molecules that give it a sexy scent and no after odor.
Get the Flash Player to see this player.
The Solerra Instant Bronze Mitt system comes with 1 Instant Bronze Mitt, 3 Original Tan Mitts, 3 Exfoliating Mitts and a bonus Sunless Silk Tanning Lotion with a Reusable Applicator Mitt. It is only $59.99 with free shipping and provides 70 days of tanning.
Update: This offer has expired