Resmedin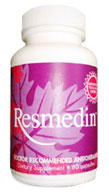 Live longer, healthier, and increase your endurance with Resmedin. It is America's top resveratrol supplement.
Resmedin is the original resveratrol you saw on TV and is America's oldest and most trusted resveratrol supplement manufacturer.
Not all resveratrol supplements are equal. Resmedin has the highest concentratin of resveratrol and other powerful anti-oxidants found in red wine.
With just two capsules of Resmedin per day you can get the health benefits of up to 1,000 glasses of red wine.
Each Resmedin capsule contains 200mg of trans-resveratrol, 200mg of grape seed extract, 100mg of red wine extract and 100mg of quercetin.
Taking Resmedin can help slow down the aging process, prevent Alzheimers' disease, prevent and fight cancers, fight type II diabetes, increase endurance, increase energy, fight arthritis and more.
Get the Flash Player to see this player.
A bottle of Resmedin comes with 60 capsules and costs $39.99. Currently there is a 30-day trial offer available where you can try Resmedin for 30 days by paying $6.95 for shipping and handling.