Brush On Block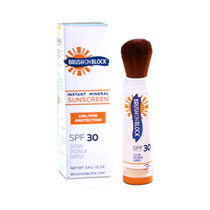 Brush On Block is a new self-dispensing SPF 30 sunscreen that is housed in its own self dispensing brush. It is natural mineral sunscreen that provides many benefits over traditional sunscreens.
For starters it is extremely convenient to use. You just open the cap and brush it on your skin. It's that simple and you won't have to deal with messy lotions or sprays.
Brush On Block isn't greasy or sticky like other sunscreens. It feels great on the skin since you can barely feel that it is on at all.
Plus Brush On Block is water resistant and sweat resistant. It can retain its SPF 30 protection even after 80 minutes of water activity or sweating.
The natural mineral formula is hypo-allergenic, safe, gentle and won't irritate your skin. Brush On Block stays on top of the skin and doesn't get absorbed into the skin.
It is less likely to cause skin irritation, break-outs, or clog pores. This makes Brush On Block perfect for those who have sensitive skin and those with acne-prone skin.
Get the Flash Player to see this player.
Brush On Block does not contain the chemicals used in other sunscreens. It is made with natural minerals and botanical ingredients which include Green Tea Leaf Extract, Safflower Seed Oil, Chamomile Flower Extract, and Honeysuckle. These ingredients helps enrich, soothe and replenish the skin.
You can order the Brush On Block Mineral Sunscreen for $19.95 plus the cost of shipping and handling. This current offer is not available in stores.