Natural Advantage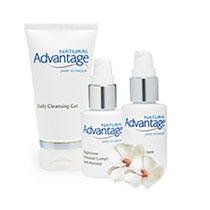 Get younger looking skin in as little as just 1 week with the Natural Advantage system by Jane Seymour. It helps reduce fine lines and wrinkles, brighten the skin, improve color and makes age spots less visible.
The formula combines natural fruit acids, Retinol, and the patented Microsponge time-release technology. It is able to provide maximum absorption and results with little to no irritation to the ksin.
In a clinical study conducted, 95% of women reported improvement of their skin within 14 days of using Natural Advantage. 100% noticed a reduction in fine lines and wrinkles and 75% of users noticed an improvement in uneven skintone and blotchiness.
The key ingredient in Natural Advantage is Retinol, which  is regarded as one of the premier anti-aging ingredients by many dermatologists . It works with the skins natural anti-aging process to help repair and renew the skin by stimulating collagen production and cell turnover.
The unique delivery system in Natural Advantage uses Mircosponge technology in order to deliver the Retinol deep into the skin, exactly where it is needed for best results.
Unlike prescription retin-a skin care products, Natural Advantage does not cause any redness or irritation. It works with the skin's own natural renewal processes to help revitalize it and make your skin look younger.
Get the Flash Player to see this player.
Natural Advantage is a 3 part system which includes a Daily Cleansing Gel, All-day Moisture with SPF 15, and the Nighttime Renewal Complex. It sells for $29.99 and comes with free shipping and handling.
As part of this current special offer that is available, when you order Natural Advantage you'll also receive 2 additional bonus gifts. They are the Firming and Lifting Neck Treatment and the Rapid Start Anti-Aging Peel.