ElimiTag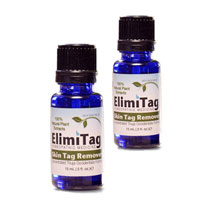 ElimiTag is the original homeopathic topical skin tag remover. It can remove those unattractive and sometimes irritating skin tag overgrowth naturally and painlessly.
This simple to use product can eliminate of those ugly, annoying, and pesky skin tags. Plus the trademarked blue bottle of ElimiTag is now better than before with the new built-in applicator brush on the cap.
The original topical formula in ElimiTag is made from all natural plant extracts without any harsh chemicals inside. It includes the pure essential oil Thuja Occidentalis.
ElimiTag will work for all skin types. It is effective on skin tags located on different areas of the body whether it is they are on your arms neck, back, or other other places.
To use ElimiTag you just open the bottle and apply the formula with the built in applicator to your skin tags. Within 3 to 6 weeks your skin tags will be entirely dried out and will fall off by themselves.
The entire process is easy to do and is complete painless.  Plus the when skin tags fall off there's no scarring left behind. In addition with the built in applicator brush, you won't have to waste cotton swabs everyday like with other products.
Get the Flash Player to see this player.
A single 15 ml bottle of ElimiTag Skin Tag Remover normally sells for $19.99 plus the cost of shipping and handling. But currently there's a buy 1 get 1 free offer available.
You'll can get a second bottle of ElimiTag for free with your order. You just have to pay the additional shipping cost of the free bottle.