The Celebrity Styler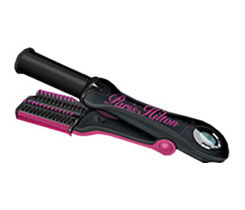 The Paris Hilton Celebrity Styler is the amazing rotating iron that curls, straightens, and shines. It is taking hair styling to a whole new level.
It has a rotating cylinder that is made of ceramic tourmaline to spread heat evenly. As your hair glides between the turning curling iron and the heated plate, it gets smoothed and shined.
Plus the Celebrity Styler has a digital controlled keypad that lets you adjust the heat anywhere from 210 to 450 degree so you can get the just right temperature.
It works with all hair types and even uses nano technology kills known germs and viruses in your hair. The negative ions combined with infrared heat produce a frizz free finish.
With the Celebrity Styler you can have that salon look when ever you right from the comforts of your own home.
Get the Flash Player to see this player.
You can try the Celebrity Styler risk free for just $9.99 plus shipping and handling. If you decide to keep it, it is only 2 easy payments of $29.99.
Plus through this current special online offer you'll also receive an ultimate hair brush free with your order.