Save a Blade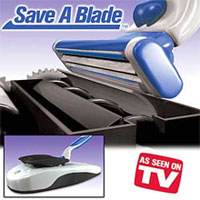 You can save a bundle on razor blades with the ingenious Save a Blade automatic razor sharpener. Get up to 200 shaves from just a single blade!
It is convenient, easy to use and will have your razor blade sharp like new in just seconds. Just slide in the razor, press the button, and in a few seconds it's done.
Now you can say goodbye to having to spend hundreds every year on razors.
Save a Blade will work with all razors whether they are men's or women's. It will make your razors give you  a close, smooth shave every time. 
The secret behind Save a Blade is their patented Micro Honing Technology. Professionals have been using this technology to sharpen blades and knifes for years.
Get the Flash Player to see this player.
Right now when you purchase the Save A Blade for $19.99 plus shipping and handling, you'll also receive a free 18-piece Grooming Kit. Act now and you can also take advantage of a $5 mail in rebate.