ShaveMate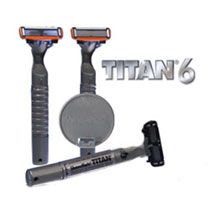 The all-in-one ShaveMate razor can help simplify your shaving routine and simplify your life.  It is available for both men and women with the Titan6 for guys and Diva6 for gals.
The ShaveMate Titan6 is personally used and endorsed by Anthony Sullivan, host of the popular Pitchmen TV series.
With the ShaveMate you get the world's first 6 blade razor that also has real shaving cream inside. The shaving cream is conveniently dispensed through the handle.
You no longer have to worry about running out of shaving cream or deal with the mess that is left behind by shaving cream cans.
The 6 premium coated inline blades on the ShaveMate gives you a clean and precise shave every time. You'll be surprised at how many great shaves each ShaveMate razor can provide.
Get the Flash Player to see this player.
Other features of the ShaveMate includes flex-neck technology for smooth strokes, an aqua-flow blade rinse for easy cleaning and a comfortable non-slip grip handle.
You can order a set of 3 ShaveMate Titan6 of Diva6 for only $9.99 plus the cost of shipping and handling. Plus you'll also get a free bonus shower hook to go along with your ShaveMate razors.