The Firm Wave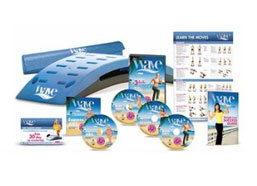 The Wave by The Firm is a new revolutionary personal gym and speed slimming system.
It combines cardio and strength training in Speed Slimming Intervals, allowing you to blast off the pounds and chisel a leaner, shapelier, sexier body in no time.
The Firm has now taken its proven training methodology to a whole new level with the Wave.
The Wave is like ab machine, butt and thigh toner, strength and cardio platform and stretching device all in one. It lets you do over 100 exercises that workouts your whole body.
With the double-sided breakthrough design, you can perform both stepping and rocking exercises on it.
The Firm Wave Speed Slimming System includes:
The Wave Personal Gym
Ride The Wave DVD
Speed Slimming Sculpt DVD
Rock It Off! DVD
Express Abs DVD
The Wave Mat
Success Guide Book
The Wave Learn the Moves Wall Chart
Sculpting Band
Rock Solid Buns DVD
Get the Flash Player to see this player.
Everything included with the Firm Wave Speed Slimming System is valued at $300 but right now you can order the Wave for just 3 easy payments of $29.95 plus shipping and handling.
Or you can also pay it all at once with 1 easy payment of $89.85 plus shipping and handling.