UltraFlex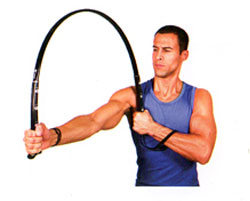 Get the body you want in the time you have with the UltraFlex. With its 8 easy moves you can work out 4 different parts of the body.
Work out and tone your upper body, lower body, core and cardio with UltraFlex.
Your Ultra Flex will allow you to strengthen and sculpt your arms, tighten and trim your abs and stomach, as well as resize and reshape your hips, buns and thighs.
With the Target Perfect Resistance you achieve great results without having to use weights, pulleys, rods or moving parts.
You can workout at your own speed and comfort level with the UltraFlex. Simply change your position to change the resistance.
The workouts takes just a fraction of the time as expensive gym equipments. The UltraFlex works right out of the box. no assembly is required.
Get the Flash Player to see this player.
There are UltraFlex versions available for both men and women. The male version is 56″ long while the female version is 50″.
Each is just $59.95 plus the cost of shipping and handling. They come with the UltraFlex lifetime warranty.