Slendertone System Mini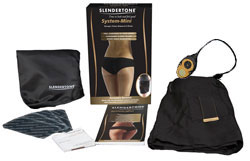 The Slendertone System Mini (also known as Flex Mini Skirt) is the easy way to tone, tighten, lift, firm and strengthen your behind and the back of your thighs.
It uses FDA cleared electronic medical toning technology that is designed especially for women.
The proudct has been clinically proven to tone the buttocks as well as the back of the thighs for 100% of users.
The lightweight, breathable skirt of System Mini was ergonomically designed for women so they can easily and conveniently tone, firm and strengthen the hard-to-train butt and backs of the thighs.
The state of the art medical technology used allows it to do pratically all the work for you. In just 30 minutes a day and 5 times a week it well deliver the results you want.
It uses patented EMS muscle stimulation technology, which is the same medical-grade technology that's been used for thirty years in the health care industry
The Slendertone System Mini tones and strengthens the same muscles that are worked out when you do squats, lunges, go skiing, or running.
Get the Flash Player to see this player.
Right now you can order the Slendertone System Mini for $199.99 plus the cost of shipping and handling. It comes with a 60-day money back guarantee.
Plus as a free bonus gift, you'll get a free 1 year subscription to either Fitness or Elle magazine.