Melt It Off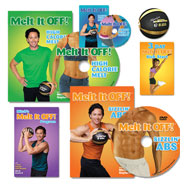 With Melt It Off you'll lose pounds, inches and size while doing fun, exciting and effective workouts. 
Melt It Off was created by  US Olympic Gold Medal gymnast Mitch Gaylord, the first American gymnast to score a perfect 1o. 
Using his knowledge of core muscle training, Mitch developed the Melt It Off program which features Leveraged Core Action. 
Workouts in the Melt It Off system uses the G-Ball, a light weight 2 pound ball that improves the effectiveness of exercises by up to 200%. 
The complete Melt If Off program includes: 
2 Pound G-Ball
Full Color Melt It Off Guide
3 Day Melt It Off Program
4 Workouts Featuring Mitch All On One Convenient DVD
Tape Measure
Free Bonus Motivational CD
Free Essential Boost Supplements
Get the Flash Player to see this player.
 You can order the Melt If Off program on DVD for only 2 easy payments of $9.99 plus the cost of shipping and handling. There is also a version available on VHS for the same price.