Les Mills Pump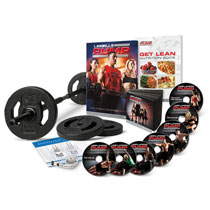 The Les Mills Pump is a new workout from BeachBody that is based on the popular body pump workout. The body pump is currently being taught at over 14,000 gyms and across 80 different countries worldwide.
Now you too can get the same quick and effective results at home with the Les Mills Pump workout. With just 3 workouts each week, you can achieve world class results and get your body into shape.
The Les Mills Pump is a high intensity, high rep bar bell based workout that burns more calories, burns more fat, and helps you build a lean and sexy look. It is being billed by trainers as one of the fastest ways to get your body into shape.
The key behind Les Mills Pump is known as The Rep Effect. Instead of having heavy weights that bulk you up, it uses lighter weights at a higher rate of repetition.
This helps burn off more calories and fat while you workout and gets you leaner much faster. The Rep Effect will push your body beyond what you thought it was capable of and helps you get that lean, sculpture like look for your body and muscles.
The Les Mills Pump includes 7 workout DVDs, all taught by a cast of the world's best pump trainers. These workouts will accelerate your heart rate and help burn up to as many as 1,000 calories per session.
Get the Flash Player to see this player.
The Les Mills Pump system includes the Barbell, Two 5 lb Plates, Two 10 lb Plates, Two Safety Clips, the 7 Workout DVDs, a Fitness Guide, Nutrition Guide, Tape Measure and Measurement Tracker.
It sells for 3 payments of $59.95 but right now you can take advantage of a trial offer and try it first for 30 days by paying $14.95 with free shipping.
Plus for just trying the Les Mills Pump you'll receive a set of 3 free gifts that are yours to keep. It includes the Hard Core Abs Workout DVD, Flow Workout DVD, and free online support.