Crunchless Abs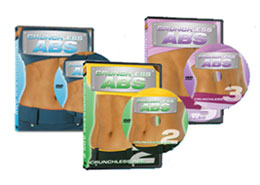 Crunchless Abs is the new exercise method that targets your entire abdominal core. You can turn flab to fab to in just 10 minutes a day.
This system was developed by noted fitness expert Linda LaRue. Her unique exercise method focuses on each core muscle like a laser.
The workouts  will target your upper abs, those hard to reach deep lower abs, your left and right side obliques, and wrapping all the way around to your lower back.
With Crunchless Abs you'll get results that doing standard floor crunches can't deliver. This is because our abdominal core contains of 12 muscles and regular crunches only targets 2 of them.
However Crunchless Abs targets and works out all 12 of your core muscles with it's 3 work out DVDs. They are:
Crunchless Abs 1. Helps you start sculpting those beautiful abs you've always wanted without any crunches necessary.
Crunchless Abs 2. This amazing 10 minute ab workout will leave you feeling firm and tight.
Crunchless Abs 3. Takes your ab workout to a whole new level. You'll continue sculpting those beautiful abs you want.
Get the Flash Player to see this player.
Right now you can purchase the Crunchless Abs system with all three workouts conveniently packaged on one easy menu DVD for just $12.98 plus shipping and handling.
As a special bonus you'll also receive Lind LaRue's Souper Slim Recipes book. It is filled with delicous and healthy recipes to get your appetite excited.
Update: This offer has expired