Rockin Abs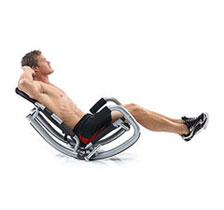 Rockin Abs can help you develop great abs in as little as just minutes a day. It contains superior technology that makes it comfortable and easy to use.
You'll be able to target your upper, middle and lower abs as well as the obliques through the Pinpoint Isolation Technology to give you better results in less time.
Using Rockin Abs is effective because the special arc design causes you to use your abs to power it and rock back and forth. This engages your core muscles more so you won't waste any time and energy working out.
Rockin Abs is designed for both men and women and for individuals of all ages or fitness levels. It lets anyone perform  can advanced abdominal moves such as the jack knife,  double crunches, oblique twists and more.
Unlike doing cruches, sit ups or other ab exercises on the floor, Rockin Abs lifts you from the gorund and is comfortable to use. The mesh support fabric cradles your neck, back, spine, and shoulders while you workout.
Plus Rockin Abs is 2-in-1 machine as well. With a flip of a switch it converts to a perfect pilates machine so you can lengthen and flatten your muscles to get that lean dancer look.
Get the Flash Player to see this player.
The Rockin Abs sytsems comes with the Rockin Abs machine, an Instruction Manual with a Workout Guide and 7 Day Jump Start Program, a Diet Plan, and a DVD with 4 full length workouts.
Rockins Abs sells for $194.80 and comes with free shipping and handling. You can also take advantage of a trial offer and try first for 30 days by paying the trial fre of $14.95. If you decide to keep it after the 30 days then it is 3 additional monthly payments of $59.95.