Spray It Away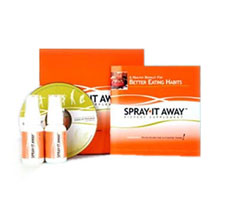 Spray It Away can help you stop overeating and cut your cravings in half. There are no pills, patches or insane diets involved.
Just a few sprays of Spray It Away can provide you with faster and more effective results than diet pills, or sprays or extract drops.
It works by tricking your brain into thinking that you are full. As a result you will up end eating and will start to lose weight.
With Spray It Away you will feel fuller faster with less food and also stay full longer. It could help you overcome the urges and cravings for food that is keeping you overweight.
The secret behind Spray It Away is certified 100% pure Lumathin, which has been used for centuries in India to help suppress the appetite and supply natural nutrients.
It's proven ingredient that helping fight hunger and aiding weight lose weigh. Lumathin is all-natural and there are no know adverse side effects from using.
Get the Flash Player to see this player.
The Spray It Away system comes with a bottle of Spray It Away, a Better Eating Habits Booklet and an Exercise Program DVD.
You can order Spray It Away for $29.95 plus shipping and handling. There is also an option to enroll in the Spray -It Away Always Club so you have a supply shipped to you every month.
Update: This offer has expired